3M Product Number: 2364
3M ID Number: 7000088385 3M UPC Number: 3M Legacy Product Number: GT500010951
Additional Product Information: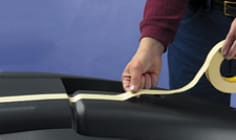 High-temperature crepe masking tape for high-temperature bake operations
Excellence under stress
3M™ Performance Masking Tape 2364 offers excellent adhesion at a wide range of temperatures. This versatile masking tape performs well in both general painting and paint bake operations at high temperatures. The crepe paper backing removes cleanly at bake temperatures up to 300℉/149℃ for 30 minutes. With excellent adhesion to metal, rubber, glass and plastic it is an economical choice for holding, protecting and bundling applications, as well as many painting operations, particularly those in the industrial and manufacturing fields. This tape can be certified for ASTM-D6123.
Recommended Applications
General masking applications
High temperature paint bake operations
Paint masking
Light to medium duty attachment
Holding, protecting or bundling applications
General labeling
General indoor use
Simple science, amazing results
The crepe paper backing tears easily, offers exceptional conformability around corners and over irregular surfaces. The rubber adhesive sticks instantly and offers good holding power that resists lifting and curling. This tape bonds well to metal, rubber, glass and plastic with good holding power and removes cleanly. Under normal operating conditions 3M™ Performance Masking Tape 2364 features one piece removal and is sliver resistant.
What is masking tape?
Masking tape was developed specifically to help protect surrounding surfaces from overspray, provide clean paint lines, and remove easily and cleanly when finished. Masking tapes from 3M adhere well, resist solvents or water from the paint, and are strong enough to hang plastic sheeting, yet remove cleanly without damaging the subsurface. The backing, typically crepe paper, can conform to curved and irregular surfaces. The tape hand tears for tool-free application.