3M Product Number: 6969
3M ID Number: 7000123814 3M UPC Number: 3M Legacy Product Number: 70006250222
Additional Product Information: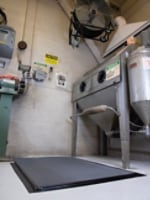 Heavy-duty tape conforms and sticks where needed
A tape with versatility
3M™ Extra Heavy Duty Duct Tape 6969 is an industrial strength duct tape that owes its strength and reliable performance to an abrasion-resistant, waterproof polyethylene film backing. A dense cloth scrim and aggressive rubber adhesive produce an effective tape that conforms, sticks where needed, seals, protects and meets other demanding applications. In addition to strength and reliability, this tape tears easily by hand and removes cleanly for no-hassle use on demand, making it a must-have for any job site or toolbox. This heavy-duty duct tape is great for many applications in the transportation, aerospace, automotive, commercial vehicle, RV, bus, truck, shipyard, metal working, furniture manufacturing, trailer manufacturing and woodworking industries.
Recommended Applications
Patching
Bundling
Reinforcing
Tabbing
Taping/splicing insulation
Capping pipe
Securing conduit ends
Marking
Labeling
Temporary repair
Hanging polyethylene drapes
Protecting against light sandblast overspray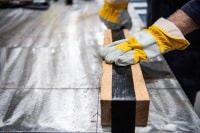 Thick backing heightens tensile strength to help tackle tough jobs
Built to stick
3M's family of rugged cloth and duct tapes adhere to most surfaces for applications, ranging from bundling to moisture proofing, sealing to splicing, reinforcing to hanging poly drapes. A toolbox mainstay in industry and home workshops, duct tape (sometimes mistakenly referred to as "duck tape") serves a wide range of maintenance, repair and construction needs. The term "duct tape" comes from the tape's original use in heating, ventilation and air conditioning (HVAC) applications, including duct sealing. Today it is found in residential, industrial, and commercial environments and used effectively in construction, electrical, general industrial, marine and automotive markets. Available in a variety of colors and strengths, they're known best for their hand tearability, high tensile strength and conformability.